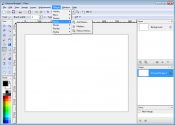 Pinta brings PC painting to the easiest level yet reached. Separate and regroup sections of your image as fast and easily as possible. As Open Source software, it features an unlimited number of layers created by developers worldwide.
Basic drawing is ensured by a library of freehand, lines, rectangles, ellipses and plenty other similar tools. And if experimentation is the word that defines you, feel free to go further with your imagination, as any mistake will be erased with the unlimited undo button.
With over 35 image adjusters and over 55 language interfaces, this image editor is sure to turn into your canvas for the months to come.