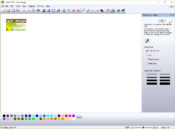 SewArt is a simple image editing tool that allows you to transform any image you might have into an embroidery image, which is possible with a variety of editing tools that this application comes with.
Transforming your raster or vector images has never been easier – with SewArt, you can change these images into embroidery images, which is sometimes a preferred styling way for some websites or graphic designs.
This simple tool will give you all the features to transform images into embroidery images and make impressive designs.
Alter a Variety of Formats
When you first start using this tool, you'll need to select the files, or rather images. Then, you want to alter it. Finally, you'll need to choose the image you want to change and then apply the changes to this editing tool's accessible effects.
The great thing is that it supports various formats, including PNG, JPG, GIF, BMP, SVG, EMF, and many others.
SewArt is a relatively easy application to use. It has a simplistic interface so that you're able to make changes even if you're a complete beginner. The best thing here is to drag and drop files or images you want to change into the interface.
The buttons and features are neatly organized within the interface, although you can always consult the Wizard if you're not sure about something.
Get the Look You Want
In addition to some layers and automatic changes, you'll have some editing tools at your disposal that will help you create an even more impressive design.
You can make changes to the embroidery, rotate images, cut them, resize them, flip them, and make other simple changes. You can also use the pencil or the brush to make slight changes to the images easily.
Conclusion
SewArt is a simple and intuitive tool adding the embroidery effects on the images, allowing you to make changes to them with various simple but effective editing tools.