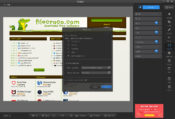 Fotor is an application that can allow you to edit any kind of images. It is easy to use and simple application that can ensure that the users can get improved version of pictures without knowing a lot about editing photos.
Some of the included features allow the user to chage the brightness and contrast settings, adjustment of focus, correcting the white balance, sharpening, blurring and saturation of the image.
You can even create a collage from the pictures edited, providing you with an easy to keep your images saved in the best setting. Moreover, multi-picture collages are also available, which can be created by simply using the drag and drop feature. Layouts for adding your picture are already available, but you can even rotate or adjust the size of the frames to create a collage customized to your needs.
Moreover, sharing the edited pictures and collage to social media forums is simple and can be done with just a single click.
Fotor is a quick image editor to deliver you better-looking picture without requiring much of your time or expertise in the field.