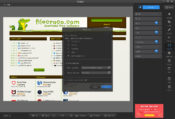 Fotor is a more advanced image editing tool that allows you to create collages of images, edit them, and change the aspects of your images to suit your needs.
Image editing is one of the main tasks of many professionals. It takes a good camera, the right photography skills, and, very importantly, a good editing tool to top it all off.
Having the right software at your disposal can make your job easier, especially when working on collages or larger images where you want to change them extensively.
And that's where Fotor can come in to help you out. It's a more advanced piece of image editing software that will provide you with all the necessary tools to turn your images into professional edits.
It's great for creating collages but versatile enough to suit many users' needs, regardless of your skill level.
Versatile
A big advantage of using Fotor is its versatility. It will offer you advanced tools such as collage editing and creation and changing the aspects of your images, but it also comes with all the basic tools you'll need for the job.
In this sense, it is a versatile tool to work with and will suit many different user needs.
Enhance Photos, Make Collages, and More
As for the main editing tools inside, you'll find various tools that every image editor needs. You'll be able to crop images and change the exposure, brightness, contrast, saturation, borders, and other things about your images.
There are also text watermarks and other image editing effects that can make your images look nice.
For creating amazing montages, it is also great. It allows you to create collages of images with no limits on how many images you add to the collage.
There are templates and additional editing tools to help you in this category.
Conclusion
Fotor is a versatile image editing tool that allows you to create collages of images and use all the basic and advanced image editing tools.