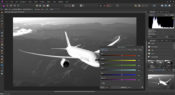 Affinity Photo is a professional photo editing software that can enhance, edit, and retouch photos. Photographers know that taking photos is important, but the hard work comes later when editing these photos.
That's when editing skills come in very handy, although working with the right tools will always be more important than having exceptional editing skills.
You can use an application like Affinity Photo to retouch, edit, and enhance your photos. It's a professional editing tool that many professional photographers use to edit their photographs, and it's easy to see why it's so popular – it comes with a wide variety of editing and image enhancement tools that nobody would want to miss.
Big Library of Editing Tools
What makes this application so popular is the big toolbox that is offered to its users. You can edit and retouch your photo as much as you want here, starting with the most basic editing tools while providing you with some of the most advanced tools on the market.
You will need to have some editing knowledge to use them, though. These are classic photo editing tools, such as brushes, eraser, blurring, clone, healing tools, pen, text boxes, magnifying glass, bucket, and more.
You can also apply various filters, from traditional to newer and more unconventional ones. All of these are great for bringing variety.
Work With Sample Files
You can either select to work with your files from the start or start with the sample files, which can help you get the hang of all the editing tools. These are available to be downloaded for free.
Conclusion
Affinity Photo is an advanced photo manipulation tool that will help you edit your photos and improve them with a wide variety of classic and advanced editing tools.
You can also learn basic photo manipulation with this tool.