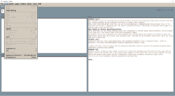 Aseprite is a user-friendly image editing tool that will help you edit your images and add various effects, enabling you to create pixel art and add sprites.
You'll need an intuitive piece of software with various tools to enhance your multimedia files. That's where Aseprite comes in.
It's designed to help you edit your multimedia files, especially your images, using various tools. You'll be able to edit them, create short animations, and add any additional effects to make things fun.
Easy to Use
A tool like this one should be accessible to almost any type of user. The good news is that this utility has a simple interface that won't be that hard to master. It's fully designed to help you create sprites and pixel art.
It looks like an old video game interface, but rest assured that it has all the functionalities you'll need from such a tool.
It Supports Many Formats and Has Many Editing Tools
First of all, we need to mention that this tool features support for many different file formats. You'll be able to import various formats, including JPG, PCX, GIF, BMP, FLC, ASE, and others. All of these formats are also available for export. To get started, you need to select your images, and then you can start editing them.
In the toolbar, you'll be able to access all of the editing tools inside this application. Even though it might look like a simple application, you'll be pleased to know that it has many editing tools that you'd want.
It includes brushes and some effects, which help you create the pixelated look and sprites. You can also add shapes and sprays, and different colors.
Create Animations
You may also edit and create animations. You may do that with various tools inside for making them, and you'll also be able to edit them.
Conclusion
Aseprite is a comprehensive editing tool for creating sprites and pixel art.