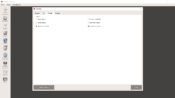 Meshmixer is an interactive 3D modeling application with advanced features for 3D modeling and various editing and analysis tools that will cater mostly to professionals.
If you want to create amazing 3D objects with some of the most detailed tools on the market, then Meshmixer might be the right tool to use.
It's an advanced tool with all the features needed for advanced 3D modeling, including editing tools and analysis tools that make it easy for professionals to create advanced 3D models.
Easy-to-Use Interface
First, we must mention that while this tool is user-friendly, it is primarily meant for advanced users. Some of the tools used inside are quite advanced, which would make it harder for the everyday user to use them to their full capacity.
Still, the application sports an attractive and elegant interface that will make it easy for anyone to create 3D models.
Importing new projects and objects into the interface is also easy. This process can be done with a single click, uploading different objects in various formats.
Some of the formats supported include .obj, which is the most common type, then it also helps .ply, .stl, .amf, and .mix. You can also open existing files inside the app.
Edit and Analyze Objects
Meshmixer comes with all the tools for advanced 3D modeling and editing. First, you will have some basic drawing tools at your disposal, which is great if you want to create models by drawing them.
There are various brushes, the lasso tool, size adjustment tools, angle adjusting, and more. These are meant for the initial stages of 3D modeling.
Then, you'll also have some advanced tools inside. You can replace the mesh region and tweak any area you want with the tools inside.
These include refining, smoothing, scaling, bulging, and more. With these, creating your model will feel easy, allowing you to use your imagination fully.
Conclusion
To conclude, Meshmixer is a great advanced 3D modeling application that combines some basic tools with more advanced tools.