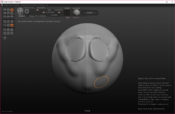 Create 3D models by choosing specific materials, which you can select from a big collection of materials with the help of Sculptris, which also allows you to apply effects to your animations.
Creating 3D models is one of the most satisfying things. You can use your imagination and create almost any model you want, which you can then use for different means.
These models can be used for cartoons, games, or even leisure as you want to customize it as much as you want. But it would help if you had a good 3D model creation tool for that.
And that's where Sculptris comes in. It comes with a clean interface and working environment meant to create exciting and nicely developed 3D models that you can then use for other means.
It comes with a wide range of tools for model creation, such as brushes, paint bumps, fill and clear, zooming in and out, and much more.
Great to Work With
We must mention that Sculptris is designed for those who already have a decent amount of knowledge when it comes to using the most common tools for creating 3D models.
While it is not the most complex tool on the scene, there are some tools that you'll need to know quite well to get the most out of them.
But that's what it's like with almost any model generator. In essence, anyone can create a project inside this tool and get started, as it's also a decent tool for learning. From there, you'll be able to use a wide variety of tools inside this app, such as brushes, additional effects, and materials that are needed to create stunning models.
Export Your Project
Once you're done with your project, you can export it and use it for different needs. You can export it in the OBJ format and then use it for various means.
The good thing is also that it doesn't eat up a lot of resources.
Conclusion
Sculptris is a popular application for creating 3D models which can help you create awesome animations, cartoons, or games.