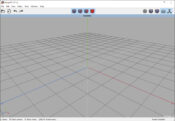 Wings3D helps you create 3D models by inserting different objects and uploading images to create unique 3D models and save the completed project to your favorite file type.
Creating 3D objects is helpful. Whether a designer, programmer, or developer, you will probably need 3D models to make unique creations. And for that, you will need a decent software solution that will help you combine different objects, images, and files to create unique models.
Wings3D is one of the simplest and most effective 3D model creation tools. It is a cross-platform utility tool to help you create models with various customizable options.
It has a clean and straightforward interface where you can easily upload your favorite items and craft amazing 3D models.
Supports Various Formats
The great thing about this software is that it supports such a wide variety of formats. You can upload photos and images in the following formats: BMP, JPG, PNG, TGA, and TIF.
You can also import NDO, 3DS, AI, LWO, OBJ, PS, EPS, STL, and SVG formats.
Some preset options will help you get started, such as various shapes (tetrahedrons, octahedrons, cubes, cylinders, cones, spheres, grids, tubes, and many others).
You can also rotate and move the objects, making it easier to customize the creations.
A Variety of Features
When you pick your objects and files, you'll then have the ability to edit them and customize them with various tools that you'll have at your disposal.
You can use the vertex function, edge or face mode, show objects with smooth shading, and hide axes.
You'll also be able to pick colors for the edge, and the vertex display and edit highlighted objects, information text, materials, axes, and grids. Many other tools will help you edit the models easier.
Conclusion
Wings3D is one of the most intuitive and thorough 3D model creation tools that helps you incorporate a variety of files into your creations.