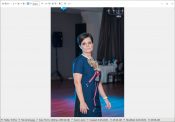 Quick Picture Viewer is an open-source application that can become a daily fixture of your computer usage. The app aims to allow you easy and free access to your pictures.
You can view the images quickly and easily, and you have all the additional features that you get with other similar applications. The hallmark of this app is its smooth functioning.
Easy To Use and Intuitive
You begin with the installation process, which is painless and quick. Once you're done with the installation, you can quickly open a file of your choice by simply dragging the file and selecting the Open function.
Then, you'll be able to see the name of the picture, its directory, its size, and creation date and hour.
Impressive Features
There's a wide array of impressive features that this app has to offer, which can make your picture viewing much easier and complete. On the top bar, you'll be able to select from the impressive small icons, which brings you additional features. Some fantastic features include auto-zoom, image copy and pasting, and transparent background formatting.
And even with these functionalities, you will be able to use the app easily. It's not complicated to use it, and the features of the app are simple.
They will not overlay each other, which other apps do. This makes the app run faster and smoother.
Conclusion
Quick Picture Viewer is a fantastic option that almost anyone would benefit from. It's simple and easy to install, and it will allow you to view pictures easily and simply.
The interface is simple and easy to use, making the app a must.