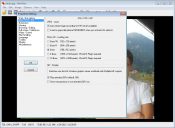 IrfanView is considered to be one of the best image viewers that come for free today. This tool can open a huge variety of formats, including raw pictures as copied from the camera, but it can also convert images and optimize them for the task at hand.
Whether you need to resize the image or play with the shades, this is the proper tool to do it. In addition to this, users can scan pictures or print them directly from the main window. The creation of slideshows is child play.
One more thing one should know before installing this program is also to play movies and audio files. However, it remains recommended to use a proper movie player for your videos.
On the other hand, you can still try some of the plug-ins available to download on the app's site.