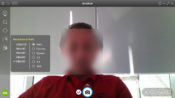 IPEVO Visualizer is a tool that enhances your experience while using your document camera. It supports a wide range of document cameras, but also devices like the iPhone.
It has a plethora of features. You can select the camera and refine the image quality. The camera can be connected not only by cable but also wireless. Thanks to TWAIN support, you can transform your camera into a scanner.
The image can be manipulated with various functions like zoom, rotate and mirror, exposure, white balance.
Some other features include video recording, slow-motion recording, live broadcasting, time-lapse recording, text-to-speech.
Additionally, a lot of other settings are provided to the users to ensure that the best pictures for the particular purpose are guaranteed when using  IPEVO Visualizer.