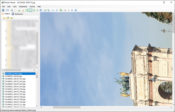 Picture Viewer is an application that helps you visualize your photos in an organized manner. It can be considered as an alternative to the default image viewer of your Windows system.
It can reduce the bloating effect of graphic designing, thus making the accessibility of pictures more natural. Moreover, there are some necessary editing tools available in this app as well, through which you can resize your image, crop it, adjust brightness, and set the contrast level.
The features provided by this viewer are not too complex. The main reason behind it is to ensure that the pictures' viewing functionality won't be affected much. You can implement some fundamental changes to your pictures, including converting the photo into black or white, turn it into an oil painting, or sepia sketch.
After editing is done, it allows you to share it on some of the platforms without leaving the application. These supported platforms include Picasa, Flickr, Twitpic, and a few other programs.
You can't expect the images with large sizes to be adjusted speedily. Thus you'll have to face a lag time while editing such pictures. Picture Viewer is one of the tools available on the market to take a look at your pictures fast and easy.