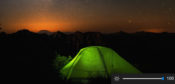 To manage the brightness of the screen in your Windows computer, you can use Win10 Brightness Slider. Through this application, you can get an icon in the taskbar, which can allow you to change the level of brightness with all the ease.
It is a free application that can serve your purpose. Moreover, the light-weightedness of the application can ensure quick results for you. 0 to 100% are the two extremes provided. You can adjust this bar according to your needs.
Win10 Brightness Slider is an application to provide you with an easy solution for adjusting the brightness level of the screen.