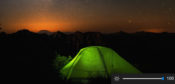 With Win10 Brightness Slider, you'll easily manage your screen's brightness while also capable of adjusting the brightness of several screens simultaneously.
If you have a desktop or an older laptop, it doesn't feature the brightness function, where you can change it instantly in just a few seconds. Newer laptops, fortunately, have this functionality.
And some laptops might not have driver support for Windows 10, which makes it impossible to change the brightness of your screen manually.
But you can use dedicated software such as Win10 Brightness Slider, a portable application that will help you change the brightness of your screen in just a few seconds.
You can do so with a simple slider that will help you increase or decrease the brightness to suit your style and mood. You can change the brightness of one or several connected monitors easily.
Portable and Simple Application
This application is nothing special. It's a simple application that acts as a slider for managing and changing your screen's brightness.
You don't need to install it, as you can access it simply from the system tray in just a few clicks. You can decide whether you want to launch it at startup or not.
To open the slider, you can click on the icon in the system tray area. The app will detect your screen or monitor automatically, and it will also detect several screens at the same time if you have multiple screens connected at once.
If that's the case, then the app will show you a slider for each of your monitors so that you're able to change the brightness easily.
Can Be Used on Desktops or Laptops
Whether you have an older desktop or laptop that doesn't feature support for Windows 10 brightness function, then you can use this app. It will work for most models, even the older ones, so that you can adjust it easily.
Conclusion
Win10 Brightness Slider is a simple app that helps you change your screen's brightness with a few clicks.