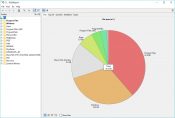 JDiskReport is an excellent free Java tool that will scan your hard disk and offer a plethora of helpful information about using disk space on your computer. Directly speaking, JDiskReport is a terrific utility that benefits any user.
It is a program that may carry out a disk scan and generate comprehensive reports on the sizes of files and folders which exist on your hard disk. It can help you find these, and you'll also have the choice to choose if you still need them.
If you've got more than one drive to scan, you must select them on startup by highlighting which ones you want. If your HDD is getting conspicuously low on space and you're not sure why many free tools will help you recognize how much storage your hard disk uses.
You can choose the whole disk drive or a particular folder on the server. It scans the disk, analyzes the files depending on their size, and presents the info in a pie chart.
What's quite useful is the various ways in which you can visually see the info. There is a great deal of helpful data in JDiskReport. It's not an ideal solution, but the extra information sometimes helps, like when attempting to determine whether my music directory's contents will fit on a single DVD-R disc.
It shows all of the files and folders' information using the majority of the space on your PC. It then represents the info in the shape of a chart that the user can easily understand. You can select to view only the information about the files inside a particular subdirectory and deal with these as you might discover suitable.
To demonstrate wherever your space is, JDiskReport has to scan your hard disk first. Just because it may take up lots of space, you should check first that it is not part of the system that could give rise to a problem if you remove something necessary for running Windows.
Change the proportion of disk space you desire to allow. You may even customize the report layout to coordinate with your requirements. Four colors are readily available.
Download this software and find the files you must send to the recycle bin.