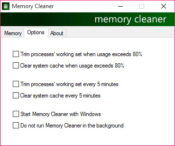 Memory Cleaner is a smart program developed to optimize the system's RAM and boost the computer's processing speed. Cache files pile up with time and will need to get cleared. Otherwise, your computer may become slow even if you run a regular program or play the latest game.
Most memory cleaning tools are not too useful because many use ill-advised practices that are only related to older versions of Windows.
Memory Cleaner indicates the memory utilized by the system and applications and the sum of memory currently offered.
With this tool, it's possible to perform all the above measures in only a single click. The application is running smoothly on the system tray.
Memory Cleaner features and benefits: