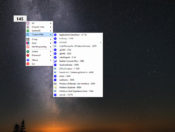 MyProcesses is a complete process management tool. It will give you full control over the running and startup processes on your computer.
Everything that happens on your computer is a process. A process is a collection of code snippets and longer programming forms that allow you to run games, apps, and other services on your computer. That's why full control over processes is essential and why many administrators want to control them.
This app boils process control into a much more user-friendly way. It gives you complete control over the running processes and those run at launch.
What is more, it's easier to use than task manager, which is the default option for most users.
User-Friendly Tool
The most important feature of MyProcesses is its simplicity and advanced functions, especially compared to Task Manager.
With this application, you'll have full control over your processes while being simple enough to understand even more inexperienced users.
Displays Processes and Control Tools
The primary window of this application will display all the processes running on your computer and the additional information tied to those processes.
The good thing is that the app doesn't need to be installed, as you can access it via the System tray and use the functions there.
After that, you can start viewing the processes and managing them. You'll be able to check out the data of each process and see how it works, find suspicious processes, and create rules as to when each process will be run.
The app is simple to use but highly functional.
Conclusion
MyProcesses makes it easy to control your processes and ensure you can set up which processes are run at launch and which are not.