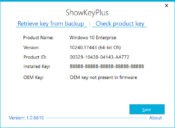 Some users need to find out the product key of their Windows operating system, and they get themselves into a tricky situation because they can't find this key. If they are professionals, they probably know how to find a product key without any tool, but it can get a bit harder if they aren`t professionals.
They need a solution to find the key without any specialized knowledge.
ShowKeyPlus steps into action because it offers a possibility to get through this problem. Thanks to this tool, finding out any key you want, and viewing the product key won`t be an issue.
This utility won`t require any installation, and it is straightforward to use. It is even possible to carry this tool on a USB, and you can launch it every time you want. It finds the private key fast, and it displays all of the details you need to know.
Viewing a product key is easy and requires just a click.