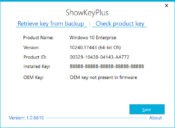 ShowKeyPlus is a simple and effective app that will display the product key of your operating system in case you have forgotten or lost it, allowing you to save the data to a separate text file so you can store it.
Some users need to find out the product key of their Windows operating system, and they get into a tricky situation because they can't find it.
If they are professionals, they probably know how to find a product key without any tool, but it can get a bit harder if they aren't professionals.
The main purpose of ShowKeyPlus is rather simple – you'll be able to retrieve the product key of your operating system, which might come in very handy if you have lost it.
It requires no installation and enables you to store the product key in a separate file, where you'll be able to keep your key and make sure you can use it in the future.
Portable App
One of the main benefits of using ShowKeyPlus is that you'll be able to launch the application without installing it.
It's portable, which means you can deploy it easily from the executable file that you have. Moreover, you'll also be able to launch it from the USB drive if you wish to do that.
See the Original OS Key
The core functionality of this application is quite simple. To find out the product key of your operating system, you'll be able to start the scan easily.
You'll be able to select the Windows product you have, and then the application should start the scan automatically, as it will help you find the right key for your OS version.
You'll also see the details about the current version of the OS you have, as the application will scan for the additional information you can see in the main window. It will give you a good idea of how the operating system works.
Store the Key
After the application has retrieved all the information and the product key for your OS, you can save it to a separate text file of your choice. It will help you make sure you never forget the key again.
Conclusion
With ShowKeyPlus, finding your operating system's product key will be easy.