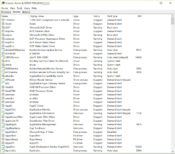 Process Hacker has been designed to provide you control over various processes of your computer. Using this application, you can get an overview of your computer and manage all the settings as you desire.
It is up to you how you handle a particular application. It can work as the standard task manager of your Windows. It can help you switch off the program and manage the other features of task manager but in a better interface.
You can also get information about the specific applications, helping you decide what to do with a special program. A tree-based view is provided for the information so that everything gets clear.
Even the category of the processes is available in different colors to give you an easy view of the functions that you are looking for. Additionally, the statistics related to your computer are provided as a graph to allow you to analyze the data and find better options for improving the performance.
Power options for your computer can be controlled using this application. All the data can be accessed from the system tray.
Overall, Process Hacker is a multipurpose tool that can allow you to manage your applications and hardware at the same time.