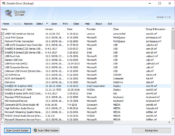 Double Driver allows you to perform scans on your computer to find all the drivers installed and access remote computers to back them up and restore them later as you see fit.
With a portable application such as Double Driver, managing and using your computer's drivers becomes easy. The app allows you to quickly and easily find and manage all of your drivers on your computer, giving you a chance to update them.
You can also back up the drivers on your PC, which is handy when you need to update or reinstall your Windows.
Portable and Simple Tool
It doesn't require any installation for you to start using it. All you need to do is extract it from the folder you'll receive when you download the app.
It allows you to deploy it on almost any device in seconds. You can also deploy it straight from your thumb drive, for example, which helps you keep your drivers safe.
Manage and Backup Drivers
First of all, the interface of this tool is minimalistic. You only need to click one button to start scanning your computers for their drivers. It comes with a nicely crafted GUI that helps even the more beginner users to understand the features easily.
After the scan finishes, the app will show you all the drivers installed, such as name, version, setup information, and ID.
Another powerful feature of Double Driver is the ability to back up your drivers and save them to your drive. The app allows you to deploy these drivers later, such as installing and using them again.
It comes very handy as you reinstall your Windows, for example, or when you update it.
Conclusion
Double Driver is a handy tool to manage and back up your drivers. It's simple to deploy, as you can only extract the files without installation to use it.