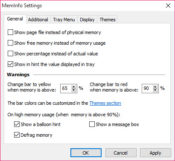 If you aren't sure how your system uses the memory, you might want to use MemInfo to get the information. With this utility, you can expect all the essential information about your system's memory usage from a single location.
The working of this application is dependent on its icon that is present in the tray. By clicking this tray, you can get all the stats for which this application has been designed.
Some of the stats that you can expect to see with the help of this application include the physical memory, page files, and the usage of memory.
MemInfo does not have any interface. However, there are multiple settings that you can adjust by using this application. Changing the display font, transparency, and modifying the themes are some of the possibilities you can have while using it.
You can even find the percentage value of the used memory or the actual value depending on your chosen settings. Similarly, other statistics can also be seen in this form.
Memory optimization tool is also a part of MemInfo. With this tool, you can expect to free up the RAM automatically; it helps improve your computer's speed and functioning.
Using this application does not require any technical expertise. Even if you aren't tech-savvy, you can use it and optimize the performance of your computer.
MemInfo is an application to get info about memory usage and the presence of optimization functionality, which can enhance your system's speed.