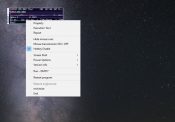 thilmera7 is a utility app showing you how your computer's resources are used. It will also display the configuration settings of your PC so that you can assess and enhance the performance of your computer.
If you use your computer often and for essential tasks, it's crucial to continuously keep track of your computer's performance. You need to monitor the key performance aspects of your computer and assess where there is room for improvement.
A Real-Time Monitoring App
thilmera7 features real-time monitoring of your computer's performance so that you can constantly assess the performance and improve while using it. You can place the app anywhere on your screen and easily see the critical information from there.
You'll be able to see the data and the performance info about your CPU, GPU, memory, drive, and network.
This app will also monitor other smaller and miscellaneous aspects. You'll see all the app's configuration options if you right-click anywhere on the software.
There, you will find the Properties screen, where you can toggle and view every aspect of your computer you want to monitor. You can also perform several actions from that screen, such as putting your computer to sleep or shutting it down.
Easy and Quick Configuration
thilmera7 offers you fantastic configuration options straight from the off. It might be hard to find what you're looking for in the app at first, but once you get used to it, you'll see that it's quite easy to use.
You can customize all of these configuration aspects and have them placed anywhere on the screen you want. You can change the window size, fonts, colors, and styles.
Once you get the hang of the configuration process, everything is quite straightforward to use. If you're initially unsure about some features, you can use the wizard, which will tell you exactly what steps you need to take.
From there, monitoring your computer's performance will be easy and painless.
It Generates Reports
Once you master the application, you will start seeing various reports about your computer's performance on the app itself. With a few hotkey commands, you can perform all the actions you'll ever need to take, including exporting the reports from the application.
Once the reports are generated, you can export them and use them for future reference. The reports this app will create include Windows activity reports, hard drive reports, GPU and CPU reports, and system information coverage.
An easy way to export reports is to generate screenshots of your screen and save them on your hard drive.
To Conclude
thilmera7 is a utility app that will help you track the performance of your computer. You can view all the crucial information about your computer, such as the performance of the main components.