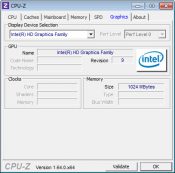 CPU-Z is a complete solution for getting more information about your CPU and PC components, such as its memory, mainboard, caches, graphic card, and the tool as benchmarking tool.
Owning a computer is easy, but sometimes, you need to pay a lot of attention to maintenance and how your computer performs. It means you'll want to constantly measure how it operates and get information about it as possible.
For this, you'll need a good piece of software. That's where CPU-Z comes in. It's a complete tool for getting detailed information about your CPU specifically.
Still, it's also great if you want to use it to get info about other components in your computer, such as your graphics card, motherboard, memory, and others.
Explore Your Computer Hardware
Using the application should be easy if you have some experience in this field. It is packed with data and information. It's got everything you need to test and constantly monitor your computer, especially its components. And if the components work in sync and well together, your computer will do, too.
With CPU-Z, you'll get detailed information and reports about your PC. It provides you with a tabbed interface in which you can obtain all the information and data about your components.
You can look at the simple info like your computer's components. You can also get more detailed information like clock speeds and bus speeds.
Get Details About Components
Your CPU is the main component you can manage and monitor with this tool. However, the app is more than just a CPU monitor. It allows you to control and manage most of your components, including the mainboard (info about manufacturer, chipset, model), GPU, memory, and other components.
It provides you with everything you need to comfortably asses the components, including the vital data and information.
Conclusion
With CPU-Z, you can get real-time data and information about your computer's crucial components, such as memory, CPU, GPU, and mainboard. It's a handy app with some nice features for all users.