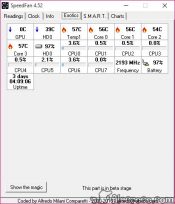 SpeedFan harnesses the info from hardware monitor chips to display in a nicely organized interface. All the data one needs to perform overclocking or periodic cleaning of the hardware's hot parts. Voltages, fan speeds, and temperatures of the CPU and GPU are detected quickly and displayed on the screen.
Access to S.M.A.R.T. info enables it also to gather data on hard disk temperature. On the latest hardware sets, the program can change the spinning fans' speed so that noise gets reduced to an acceptable level.
On certain models, FSB settings can be accessed and modified as desired.
SpeedFan features and benefits:
handle almost any number of South Bridges
handle almost any number of hardware monitor chips
handle almost any number of hard disks
handle almost any number of temperature readings
handle almost any number of voltage readings
handle almost any number of fan speed readings
handle almost any number of PWMs