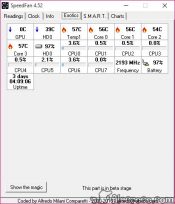 With SpeedFan, you can adjust and tweak some of your computer's parameters to finetune fan speed, voltage, and chip settings to get the most performance out of your PC.
Whether you buy aftermarket fans for your computer case and your hardware or rely on first-party fans that come with your chosen hardware, the computer will try to regulate its speed based on its current performance.
You can easily change the fan speed using a dedicated application like SpeedFan. This app will allow you to fully tailor the fan speed to your needs.
There are also some additional settings that you can tweak, such as changing the voltage and other chip settings. You can again log program activity to get constant reports, too.
Quick and Easy to Use
The app must first be installed on your computer before you use it. The installation part should be easy enough as there are no additional customization options, such as third-party apps, during installation.
You'll find a classical GUI after the installation is complete. It likely won't blow you away regarding looks, but you'll be surprised at how simple it is.
You can quickly see the crucial information and make the changes in just a few clicks, which is great even if you're completely new.
Tweak and Track Your Fan Speeds
The primary role of this application, as its name suggests, is to help you tweak the speed of your fans. It includes the fans of your hardware, the case, and other fans you might have inside.
It will give you full control over the fan speeds, although you'll have to use some sense not to go overboard.
Conclusion
SpeedFan can be an excellent app to customize your computer's fan speed and ensure it meets your standards.
SpeedFan features and benefits:
handle almost any number of South Bridges
handle almost any number of hardware monitor chips
handle almost any number of hard disks
handle almost any number of temperature readings
handle almost any number of voltage readings
handle almost any number of fan speed readings
handle almost any number of PWMs