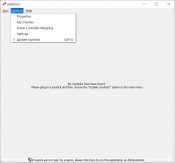 AntiMicro is a simple application that helps you set up your controllers and gaming pads, so you can easily map them and even map keyboards to those controllers.
Gaming with controllers is popular for some specific games, such as driving games. However, that requires you to use a controller on your computer, which creates many additional hassles. One of the biggest problems is mapping the keys from the keyboard to your controller. You have to set it up properly.
With AntiMicro, you can map your keyboard to your favorite gamepad or controller to enjoy your favorite games on your computer. It's simple to use and helps you play your favorite games in your preferred way with the controller of your choice.
It features support for various types of controllers and keyboards, too.
Assign Keyboard Buttons to Gamepads
The main task that AntiMicro can help you achieve is assigning buttons to your gamepad or controller. It gives you much control over what keys you can press with your controller and how your gaming experience goes.
First, you'll need to have a gamepad or controller ready and plugged into your computer – most probably, via a USB port.
A Great Choice for Beginners
The application itself is extremely simple. Not only does it have a simplistic interface, but the functionalities are equally as simple.
You can map your keys by looking at the highlighting cell to pick your desired buttons and assign keys to them. Select the button you want to change, and select the key you want to assign it to – it's that easy.
The app makes it easy to configure your gamepad and test it. When you do the changes, you can try them to see if they work as they should. You'll have a small window to do these tests, which will give you a better idea if it works as it should.
Conclusion
Changing the buttons and assigning keys from the keyboard to your controller is easy with AntiMicro, a simple app that will help you use your controller as you want.