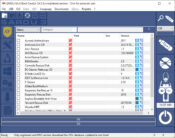 SARDU allows you to create a bootable drive or backup drives with ISO files and other formats. You can choose from USB or CD creation and additional features in this clean application.
If you're an experienced user, you've probably already encountered some problems with your computer.
One of the most common is when you can't start your computer due to operating system failure. In that case, having a backup operating system at your disposal would be handy, making life easier for you when you want to restore things to normal.
You can create backups and bootable drives with the help of Shardana Antivirus Rescue Disk Utility – SARDU, an application with all the tools you'd need to create bootable drives and add ISO files to USB drives and CDs of your own choice.
You can use these drives to back up and restore your system without losing any files or data in the original system.
Create Recovery Drives
One of the most useful means of this application is to help you create backups and recovery drives if something goes wrong with your operating system.
It will allow you to create a bootable drive with various options for restoring or booting your computer. It can help you restore your computer in minutes without losing files.
Moreover, it will provide you with all the necessary diagnostic tools for recovering your computer and ensuring it runs as it should.
While you can create bootable drives, this tool will also have the essential repair tools to make your life easier if something goes wrong. It's the go-to function for many users who want to fix their problems instantly.
Add Different Files to Bootable Drive
What is more, SARDU will give you all the tools necessary to help you provide you with a complete solution for creating bootable drives.
Not only will you be able to add ISO files to your drive, but you will also be able to get them from the internet and install them onto the drive in a matter of seconds. It is an intuitive approach that will save you a lot of time.
Moreover, you'll also be able to include other types of files, including antivirus, partition manager, diagnosis tools, and more. You can also personalize the drive by creating folders, which adds more organization to your drives. Even though you can't preview your drive, it's an intuitive app.
Once you enter a USB drive into your computer, it will be automatically detected so you can start customizing it immediately.
You won't have to wait long for that to happen, too. You can add images manually, but you can also use the manager inside, which will help you automate the process.
Conclusion
In short, SARDU is the complete tool for creating bootable drives and making recovery drives.