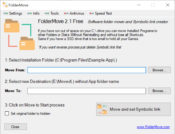 If you have used a Windows PC for any time, you probably have some frustrations with moving folders. Often, you can try to move some folders to another folder or directory and discover that there are more steps than you anticipated.
Luckily, there seems to be an application that is making this process much easier and more streamlined for users. It is called FolderMove, and with this app, you don't need to move the other things in the folder if an application is installed.
When you normally transfer a directory, it happens with ease.
Set Paths Easily
There are a lot of complicated things that go on behind the scenes of computers. One of these is the path and symbolic link. When you move a folder, you are moving the link to it. In other words, you might be removing the only reference to this folder, and you will no longer be able to find it.
What FolderMove does is eliminate this mistake as a possibility. The utility has high portability. That means you can create new links without a new configuration or installation.
It functions as a tool that is very minimal in design. It does its job without using up too many of your PC resources.
It all happens within one computer interface.
How It Works
To start, you must choose the folder path you want. You can transfer it and decide where you want to move it to. The utility will move in concert with the symbolic link.
It means you don't need to worry about the difference between the actual link and its symbolic reference. Thus, it will automatically update and point to the right folder.
Reliability
When looking at a tool like this, you want to know if it is reliable. If it is useful enough to be one of your main programs, you know you are on the right track. Perhaps you need to move some drives around. Or maybe you want to clean up your PC.
For instance, some people have video games or other huge files. Moving these to an internal or external drive can be a pain.
However, you don't have to worry about these issues with FolderMove. You can control them like an administrator.
Summary
When you look at applications that can make your life easier, you want to search for ones with the fewest steps possible. After all, some applications limit the time you need to spend on your job so you can focus on other things you would have more fun doing. FolderMove appears to do exactly that. It allows you to quickly and easily move folders around.
It doesn't matter if they already have applications in them or not. It will make them move without breaking anything or requiring expertise in computer programming.