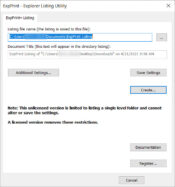 ExpPrint can be used to generate files that you can then sort into lists and create them for printing to organize them and save them for later use using a wide variety of features inside this tool.
Too often, many people have too many files on their computers. That can make life harder for you if that's the case for you. It will make it hard for you to locate the files you're looking for, but it can also clog up your computer's hard drive.
And what is more, if you want to print files regularly, then it will get hard to locate your file after some time.
To solve those problems, you can use ExpPrint. It is a neat application with a simple interface that allows users to organize files and generate them, allowing you to sort files into lists so that you can use them for printing.
You can create lists based on the solid rules you set for the app, which will help you identify the files you're looking for in the future very easy.
Create Lists with Detailed Information
When you first install this application on your computer, you'll notice that it has the default context menu in the first place.
In there, you'll need to add the first file so that you can start working with it. That's the only way to get you started easily. After that, you'll be able to configure your file further and create lists easily.
When you search for files, it will take some moments for the application to gather all the details about the files you're looking to add to the interface.
While it may be an inconvenience here because you'll have to use Windows Explorer, it will only get easier after this step. With some patience, utilizing this tool becomes easy.
Output Files
Once you select the files, they're locked down inside the application. However, you can always lift that lockdown with the use of the "Create" button, where you'll be able to manage the files and handle the visual aspect in a little more detail. When you're ready with your files, you can start exporting them out of this application.
To do that, you'll have many different options when it comes to the choice of formats. You'll be pleased to know that this application supports various formats, including TXT, CSV, and HTML.
You can also preview the file you're about to export and see whether it is to your satisfaction, no matter which file type you choose.
There's a lot of customization on offer with this tool, too. You can sort out the visual aspects like the appearance and the colors, but you can always change them before you output any files out of this application.
Conclusion
In short, ExpPrint is a comprehensive tool for generating fileslist for folders, HHDs, or external drives.