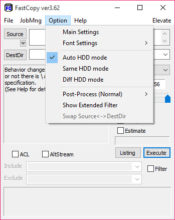 With FastCopy, you'll be able to move or copy files from one location to another quickly, synchronize files in different locations, delete them in batches, and much more. You can consider it as an alternative to the generic copy function of Windows, but with a higher speed.
Copying and moving files are common tasks that software developers and computer users have to perform daily. The bad thing about this task is that it can be time-consuming and boring, which is why you would need a simple tool to help you do all of these tasks faster and without too much effort.
One of these tools is FastCopy. It's designed to help you quickly copy and paste files from one location to another without having to do it yourself, and you can also set a few other configurations that will help you complete the task even faster and easier.
It will also help you synchronize files and delete them in batches.
Portable Copying Tool
One of the best things about this utility is that it's completely portable. It means that you can deploy it in a matter of seconds, and you can launch it by opening the executable file you have on your hard drive or by copying it onto the USB drive.
You can thus get started with copying your files in a matter of seconds.
Copy, Move, Synchronize, and More
To start copying your files and moving them into another location, all you need to do is select the original folder to copy the files and pick the files' final destination.
Then you need to select which files you want to copy, and then you're good to go. The transfer rate will be determined by the number of files you copy and more.
You can also perform some other actions, such as syncing files in your target location, deleting them, and more.
From our tests, we've seen that these actions will be done much faster than if you would do them yourself.
Conclusion
FastCopy is a great solution for you if you want to copy and move your files to other locations faster and easier.