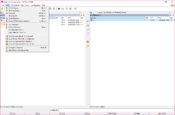 Total Commander is a hugely popular application for browsing and managing your files. It has a powerful environment where you'll have access to powerful tools and easier navigation.
Managing your computer can be one of the most important tasks, especially when you have many different files.
And having a lot of files can be distracting, especially when you need to find a file you're looking for from the sea of files you have. It requires you to organize better.
And with Total Commander, that becomes an easy task. The application will help you with basic and advanced file management, enabling you to keep your files safe and ensure that your files are displayed just the way you want.
It has a double panel for viewing things easier, and it's easy to use.
Effective Interface
The main interface of Total Commander is designed to bring you as much space to work with as possible. The great thing is that you'll have two different panels for browsing your files, making your job much easier.
You can always change the interface and suit it to your needs through customization tools that you'll find inside.
Secure and Manage Your Files
It has all the file management tools you'll ever need but also some extra tools that will make your life even easier. It has an integrated archiver, which on its own, should enable you to keep your files safer.
There's also the fact that you can encode your files using various algorithms, which is useful if you have sensitive files.
An integrated search engine will help you find the files you want to work with. This search engine enables you to find the files easily and with just a few steps without overly complicating the process.
Conclusion
To conclude, Total Commander is a very useful tool to own. It will help you manage your files and keep them as safe as possible, which is handy when you have many files.