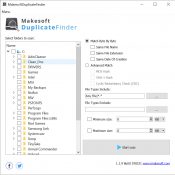 One of the issues facing modern PC users is having too many files and documents to keep track of. First, you have your business needs. It could include client proposals, files, and passwords. Then you have personal banking and creative projects. And it's no longer just text documents. All kinds of files must be managed, from videos to ebooks, to music.
Because of this, you are having Makesoft DuplicateFinder that can handle these files can be a pain. But if you use the right one, you can identify duplicate files.
It keeps your computer clean. It also makes it run faster and saves resources. Finally, it means you have peace of mind with more organization.
Find Duplicates
DuplicateFinder is an excellent application for Windows devices. It finds your files, byte by byte, and ensures no duplicates. It compares their hashes, leveraging advanced algorithms.
It means your PC has more room to run faster, and you aren't dealing with files spread all around your computer.
New Features
We found some new features in this version to be pretty useful. For one, you can stop searching because it's taking too long.
Second, they have added an improved search engine algorithm, making it easier to find your duplicates in less time.
Intuitive and Easy to Use
Since this was designed specifically for Windows, it works flawlessly. You don't need much previous experience with similar software, as everything is pretty straightforward. The configuration panel has enough features to be powerful without being overwhelming.
However, if you are a more skilled user, you'll find that you can change the settings to your liking. You can tell it to look for certain features to customize your experience.
It includes names, dates of creation, and even file extension formats.
Compare Files with Advanced Methods
Using an SHA-1, MD5, or Cyclic Redundancy Check (CRC), you can match duplicates by using some of the best algorithms out there in an accurate way.
Search Specific File Types
You can set the scope of what the app will scan and how many folders it will look in. Sometimes, you need to search the entire computer. Other times, you know where potential files might reside, so you can limit the scope to save time.
And you can set limits on the file sizes being compared to further speed things up.
Leverage Speed in Your Searches
Besides accuracy, the primary benefit of using Makesoft DuplicateFinder is the speed with which it searches for your files.
It keeps your copies safe and removes them only when it is certain, within seconds or minutes.
To Summarize
We found that DuplicateFinder ran fairly quickly compared to other similar programs. It also delivered good results without errors or crashing. It was simple to start up and use again and again.
In our review, it's an advanced program that is good for beginners and pros alike. It's worth downloading and checking for yourself to see how it works.