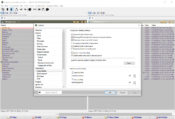 Are you tired of Windows Explorer and its quirks? You're not alone. For years, people have been developing file management programs to replace the hitherto minimal Windows default. It may have improved somewhat in Windows 7, but it still has a long way to go to equal some of the file managers on the market today.
There are many people who, even though they disliked Windows Explorer, weren't ready to shell out $70 to replace it. If you count yourself among this crowd, your wait is over.
Finally, there is a completely free, powerful Windows file manager that combines the best of programs like the old Norton Commander and the still-excellent Directory Opus.
The first thing you'll notice about Unreal Commander is the classic two-panel interface, which is essential for any file manager these days. You'll feel right at home from the beginning. Then you can explore the Unreal Commander's ever-expanding feature set:
Extended File Search: Unreal Commander puts the Windows search tool to shame, which is doubly impressive since the search tool is one thing that Windows does pretty well. You'll be amazed at the variety of options you can specify for each search of the local computer or network.
Batch Renaming: This is another must-have feature for file managers, and Unreal Commander doesn't disappoint. Its Multi-Rename tool allows you to do precisely that: rename multiple files at once with a minimum of effort.
Directory Synchronization: Unreal Commander's synchronization capabilities are up to the challenge of making sure you're on the same page, whether it's between a thumb drive and your laptop, your hard drive, and an FTP site, or just about anything else.
Tabbed Folder Browsing: Have you been wondering why Microsoft didn't include tabbed browsing in Explorer? Well, your questions have been answered, if not by Microsoft. Tabbed folder browsing allows you to switch between several folders with a single click.
Multi-Archive Support: Some file managers skimp on this, but not Unreal Commander. It supports a mixed variety of archive formats, including RAR, ZIP, CAB, ACE, TAR, JAR, GZ, LHA, ARJ, and TGZ. FTP Support: The program includes a built-in FTP utility complete with a status bar and background transfer capabilities.
Built-in Viewer: No more waiting for your external image viewer to load every time you click an image. Images now appear thanks to Unreal Commander's built-in viewer and Quick View mode.
Secure Deletion of Files: When you delete a file or folder in Unreal Commander, you can be sure that it will be unrecoverable with its Wipe feature, which overwrites the data rather than just deleting it.
Copy, Move, and Delete in the Background: There's no need to stare at the copy, move, or delete status. Just slide it into the background and continue working. And there's much more, including plug-in support, visual styles, enhanced drag and drop, history, and hotlist functions, among others.
Unreal Commander truly brings the power of the advanced file manager to Windows, and the best part is: it's free! Now there's no reason you can't enjoy features previously only available by spending upwards of $70. Download and try it out for yourself.