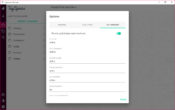 TagSpaces is an application that will help you tag files and folders to better control the files on your computer and enable your computer to be better organized and eliminate unorganized spaces.
Having a lot of files and folders on your computer is perfectly normal. That happens when you download a lot of files from the internet that you might use for leisure or work, and it also happens when you have a lot of multimedia files that you use, such as music, photos, videos, and other types of files.
Fortunately, you can easily organize them using the right tools for the job. One of these tools is TagSpaces, a simple application that will help ensure your files are neatly organized by attaching tags.
It will allow you to search for your files by tags and get to the file you're looking for much faster.
Tag Files and Organize Them
This application works in a very simple way. It ensures that some files are organized by the same tags you can use to organize similar files together, allowing you to access them quickly.
You must select the files you want to work with inside the application and then add the tags you want to assign to the file.
Then, once you're searching for this file, you can use the search and find them by tags. You can also sort your files by format to access them much faster when needed.
You can also perform other actions such as opening a document, adding tags, renaming files, deleting them, and more.
Simple Interface
Another useful feature of this tool is its simplistic interface. It makes it easy to select the files you want to work with and organize them quickly.
Conclusion
TagSpaces is a great app for organizing your files by adding tags to them, allowing you to quickly and easily access them.