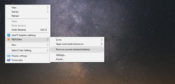 MyFolders enables users to access the most used folders of the computer from a single location in the context menu. It is helpful in saving time and increasing the level of efficiency of any compuetr user.
Additionally, the hierarchy of folders can be managed using this application, which is a facilitator in the exploration of the computer.
Some of the primary functions that can be performed through MyFolders include "copying", "moving", "going to", and "open command window". All these functions can be completed by highlighting the desired file, clicking the desired features and getting the work done. The easy to work function provided through this application helps in saving time and giving ease to the users. Additionally, the level of productivity is enhanced through this application.
MyFolders is a real time saver that performs large functions by minimizing the steps required for their completion.