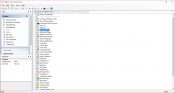 FileMenu Tools is an application that will help you customize your Windows Explorer context menu by letting you add your favorite and custom items and shortcuts to the menu, improving your workflow and efficiency.
It helps you customize the context menu of Windows Explorer, which is the menu when it opens up when you click the right mouse button. This app is easy to use and can be installed with just a few clicks, even by real beginners.
Furthermore, the app has an intuitive interface, meaning you can customize it easily and with just a few simple clicks. You can customize and add new stuff to the menu and alter things such as the Send To function or other functions that are frequently present in this menu.
Add Commands, Submenus, and Separators
FileMenu Tools is a complete menu management tool that lets you make almost any change you desire. You can regularly add new stuff to the menu, such as commands, submenus, and separators. However, you can also easily remove entries from the list if you want to.
It also allows you to reconfigure general properties and change them in any way you want. It includes general configurations, descriptions, icon, menu text, element types, file extensions, drivers, modifier keys, arguments, working folders, and other modes.
Intuitive and Easy to Use
The application is incredibly easy to install and use, mainly thanks to its simple and intuitive interface. It has some simple buttons where you can perform powerful moves easily. You can add folders and shortcuts and perform configurations for your menu.
This type of customization allows you to customize your menus massively. It makes it easier for you to optimize your workflows and make your whole Windows workflow much smoother.
Plus, the app is incredibly easy to use, so it won't take long to figure it out and get the hang of it easily.
Export Settings
The great news is that this app uses little to no memory and resources to get the job done. When you're done with the settings, you can easily export them to an INI or REG file, depending on what type of file you need. It makes it easier to share the settings and use them on your other computers where you might have the app installed.
The application runs very smoothly, based on our experience. It has a good response time, supports two languages for the interface, and contains user documentation. We haven't encountered any freezes or crashes, or potential error messages.
Conclusion
All in all, FileMenu Tools is a powerful and beginner-friendly tool that will help you optimize and customize your menus and make them easier.
It will save you tons of time and improve your workflow massively. It's a lightweight application, too, and it's easy to use, so it's also appropriate for beginners.