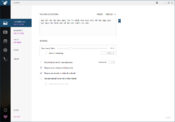 Display thumbnails for almost any video of your choice by using Icaros Shell Extensions, a pack of shell extensions that Windows users can use to get support for a wide variety of multimedia formats.
When you want to add Explorer thumbnails to almost any of your video files, you can use an application called Icaros.
This app is a list or a collection of extensions you can use for your Windows system to help you display various Explorer thumbnails for the video files you want to view and play.
Easy to Install and Offers Wide Support
Icaros can be installed quickly and easily onto your system. The installation should not be complicated, as it offers you clear and direct steps to set this app up.
Before you start using this application, you'll be pleased to know that it already has some packages pre-installed for supporting file extensions like FLAC, APE, and MPC.
Moreover, you can always see that it has support for other formats, too. With this app, you can get thumbnails for almost any video file extension, including MKV, AVI, FLV, MP4, MOV, OGM, RMVB, or M2TS.
Activate Thumbnails and Deactivate Them
Icaros works in a very simple way. You'll be able to see a list of all the thumbnails you have in your interface and all that you have enabled or disabled.
With that, you can freely decide which thumbnails are used and which are not, which you can determine in just a couple of clicks. When you activate one, you'll see that all video files you play will use it.
At the same time, you can always add new thumbnails and extensions to the list you already own, which you can easily do.
To do that, you must type the file you want to insert into the designated field.
Conclusion
Icaros Shell Extensions is a useful application for everyone who wants to add thumbnails as they play video files on their Windows system. It features widespread support and great thumbnails that you can use.