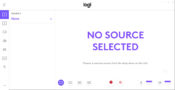 Logitech Capture can turn your Logitech webcam into a video camera. It contains recording tools that give you the capability to create videos and customize them using your webcam. It works with Logitech C922, C920, or BRIO webcams.
It has a simple user interface and lets you use two webcams simultaneously for video recording and monitors them on the same window. Also, using the app, you can take screenshots with just a click. The resolution and frame rate for recordings can be adjusted according to numbers: 24, 30, 50, etc. To begin recording, you can set a countdown from 3 to 1.
Also, screenshots in 5MP resolution can be captured. By default, the Logitech logo is displayed over the video. If you want to hide it, toggle it off in the settings. The H.264 codec can be used for real-time encoding and decoding of streams.
Various hotkeys can be used to control different features. The hotkeys can be customized through settings where you can adjust the display by tweaking filters, colored borders, and composition. Transition effects can be applied between sources and tailored to their length. The software can be used for live streaming on Facebook or YouTube. It requires a bit greater CPU and RAM specifications for it to work smoothly. You will need an Intel Core i5 second generation CPU or above and at least 8GB RAM.
It is reliable and easy to use the software if you are looking to use your webcam to record and broadcast.
The software has simple controls and more customization features compared to other webcam software. These advantages make this app a popular choice among many users. Upon installation, Logitech Capture automatically detects the webcam and lets you adjust the zooming and display options.