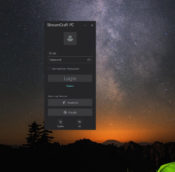 Being able to stream today is a huge cultural shift. There are, of course, platforms that you have heard of doing this, such as Twitch and YouTube. It can mean a lot of potential wealth, attention, or notoriety. For others, it is simply a matter of having fun.
No matter what kind of streaming goals you have, it's important to have a platform and technology that supports that vision. For many users, StreamCraft PC is a great way to do this. It includes the powerful common features you would expect from such a platform.
At the same time, it adds to this standard mix with new features you might have forgotten about or never thought about.
Highlighted Features
StreamCraft for PC lets you live stream, conduct giveaways, contests, donations, offer cash rewards, and do it all easily in high definition. The chat function means you have live interaction and get more out of each stream.
As a creator, you want to be able to interact with your fans and viewers in new ways. Imagine being able to run some contests and offer those rewards in real-time. It makes people more addicted to your streaming channel.
Perks and Benefits
We found that creators will enjoy various additional perks for their benefit. Namely, you have a higher cut of the subscription revenue than you typically find with similar platforms. This additional cut extends to other revenue generators, such as digital gifts.
Your viewers always have some new way to get rewarded so they stay engaged with your content.
Community Building
Building a community around your streams is a way to have more longevity. You can do this more easily without breaking the bank with the tools provided.
Getting to a point where you can stream how you want is not easy. However, it becomes much more doable when you have the right platform. Being able to easily control your streams, interact and chat live, and do giveaways is huge for a streamer.
Combining that with the fact that StreamCraft offers a larger percentage of money to creators makes it all the more appealing as a platform to try.
Conclusion
In conclusion, the world of streaming has undergone a significant cultural shift, with platforms like Twitch and YouTube offering opportunities for individuals to achieve wealth attention or have fun. Regardless of your streaming goals, having the right platform and technology is crucial to realizing your vision.
StreamCraft for PC stands out as a valuable option, providing essential features expected from such platforms while also introducing innovative elements that enhance the streaming experience.
Its ability to facilitate live streaming, conduct giveaways, contests, and donations in high definition, along with interactive chat functions, elevates the engagement level of your audience.