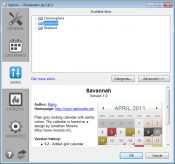 Rainlendar keeps track of your daily tasks in a modern and functional way. Whereas it doesn't interfere with the workflow, this calendar application is always visible on the desktop and customized as desired.
If you struggle with time and are unorganized, you need a calendar application or a similar alternative. It would help if you had a digital personal assistant, and that is where Rainlendar can help you tremendously.
It's a simple app that allows you to organize your calendar and become more productive.
It Looks Like a Calendar
When you launch the application, you'll see that it appears in the form of a calendar. It will seem pretty straightforward initially, but once you dive into the many options it offers, you'll be surprised by its depth. In its essence, though, it is a calendar in digital form that will follow you on your desktop.
With this app, you'll be able to create reminders and write notes about each day. It will help you fulfill what you've set out to do. For example, you can pick a date and create events on that day.
You can also create notes for the selected date – you can customize these notes as much as you want.
Even though this app is simple and easy to use, you'll also be offered many customization options.
This way, you'll be able to customize your notes and calendar and add details, alarms, task lists, events, and other things to your calendar.
Simple and Light
Rainlendar is a straightforward application to use. You don't have to be an expert in using it so that it can become your everyday follower.
At the same time, it's also lightweight, which allows you to run the app regardless of how powerful a computer you might have. You can even let it run in the background and not affect your performance.
Conclusion
To conclude, Rainlendar is a calendar application that allows you to organize your schedule easily. It's simple and lightweight but also offers advanced customization.