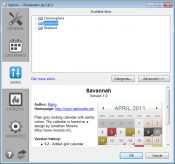 Rainlendar keeps track of your daily tasks in a modern and functional way. Whereas it doesn't interfere with the workflow, this calendar application is always visible on the desktop and customized as desired.
Tasks can also be separated into different categories as well as themes and skins are interchangeable. Moreover, by the use of this program, you get notified in advance of a scheduled event with a preselected sound. If procrastination defines the state of things, the snooze option will deal with that.
We should conclude with some other great features you may find quite interesting: it supports 50 different languages.
It accepts subscriptions from other online calendars so that users get to share their events across the web.