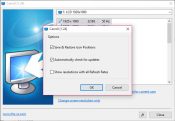 Carroll is a rather simple application that will allow you to set the screen resolution for every user, which can be especially helpful if your system doesn't have enough resources to run higher resolutions.
Carroll is a simple application to use to begin with. It's a small tool that will enable you to control which resolutions will be used by the screens you're using so that the users on your computer can enjoy a smoother experience.
It's particularly useful if you have a lower-end computer that isn't able to run higher resolutions.
Simple to Use
The essence of this application can be boiled down to the smaller main screen where you'll be making the changes you want to make. It will offer you the parameters that you can use with the screens you have in use to make the best changes possible according to your system and its power.
The app will automatically detect the screens you're using and the users using them, allowing you to make the changes instantly.
You'll be able to choose the screen resolution from a variety of predefined measures, which will enable you to change the resolution in seconds.
You can also set the resolutions to be used every time you log onto the system if you want.
Configure Your PC Resolution
When you first launch this application, you will have the option to start making the changes to your resolution. What is nice about this tool is that it will let you configure the performance of your computer as you launch it, giving you more control when you launch the computer.
It will enable you to launch your PC with the right resolutions.
While the application will not display all of the functions and options at the start because it will not display all of the user accounts you're using, you're going to have to tweak some settings every time you launch the PC.
Conclusion
Carroll is an excellent tool if you want to set the resolutions of your screens to the right settings every time.