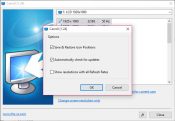 If you are looking to create a specifiec screen resolution for each user account, you need a tool like Carroll. It is a easy to configure and useful application, and it's working on low system performances.
When it comes to the interface, we don't have to say more things. It is a standard and straightforward window with few options and buttons.
You have to select the profile at the top of the window, and after the profile was chosen, you have to put a new resolution. Press the key button, and it will be applied in few seconds.
Also, you can change the screen resolution and restore with every logon for a current user, you have a button for this action, or you can change the screen resolution for the next change.
If you chose to apply the resolution until the first restore, you would have a default resolution applied. After the login, the changes will be made exactly how you set them.
Being a simple application, when it comes to performance, you have to know that Carroll doesn't require more resources to run. Carroll is a great software running without errors and without affecting your registry, an important feature for it.
In conclusion, Carroll is an excellent application if you have more user accounts on your computer, and you need to have custom screen resolution for each one.