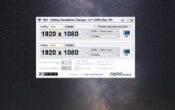 HotKey Resolution Changer is a handy tool for people working with multiple monitors. We know that resolutions are always problems, and it's not so easy to adjust and find the perfect screen resolutions.
This software will help the users to change the screen resolution automatically for their computer. It's produced to switch between different screen resolutions until the perfect one is found.
Up To Nine Monitors Simultaneously
An essential advantage of this tool is that it includes 2 to 9 shortcuts for different resolutions simultaneously. You can simultaneously work with up to 9 monitors and change the options with only two clicks.
Let's think you have three monitors with different resolutions. You need to see the image correctly without discrepancies between the monitors; manually is not easy.
Indeed, it's a bit harder to have an image exactly fitted on the screens simultaneously.
Define Custom Resolutions For Each Monitor
You should choose the resolutions until the best one is selected, but when you have a good screen resolution on the first screen, the second and the third aren't at the same pixels? Yes, you will be upset, and you need some help.
Thanks to HRC, working with multiple monitors isn't a problem for us. We just connected the screen and chose the resolutions from the Interface.
Change Resolution Using Hotkeys
HRC is not complicated software – you can install it in a few seconds by following the instructions. After that, run the program and choose your favorite screen sizes.
Another important feature of this tool is the possibility to customize hotkeys for each monitor. If you have problems with the third screen, press the shortcut buttons and change the resolution directly for this one.
Please don't damage the other resolutions because it can be harder to find the best one again.
To Conclude
Install HotKey Resolution Changer, connect your multiple screens, and work efficiently with all your monitors.