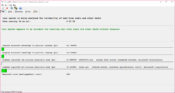 LatencyMon is a real-time suitability checker which will help you measure DPC and ISR execution times and provide you with additional and advanced details about the system.
With this app, you're getting a compact and powerful tool that will enable you to get all the relevant information about latency on your computer and get the DPC and ISR execution times.
These pieces of information are really important to know when you want to process audio signals on your computer and other tasks.
Start the Program and Let it Do the Work
One of the best things about this program is its simplicity and effectiveness. To start monitoring your system with this application, you will need to run it, and the app will run tests in the background as you're doing your work. It will analyze the delay times and give you a good idea about the execution times.
This application is mainly used by people who want to manage their CPU and its performance.
When you're running CPU-heavy tasks, you might be running into several problems that come with these tasks, such as errors and performance stutters, which might happen because of underrunning or poor optimization.
Get Other Pieces of Information
LatencyMon will also provide you with additional pieces of information about your system. Not only will it show you the latency numbers and all the information connected to that, but you're also getting kernel time latencies and other relevant statistics for your system's operation.
You'll find that this application is quite simple to use because you don't need to do anything to run it. It works automatically for the most part.
However, reading the results of the tests is a whole different thing. You might need some additional knowledge when you do that.
Conclusion
LatencyMon is a great application to monitor your system and get the response and execution times of DPC and ISR, which can help you analyze and monitor your system's performance.