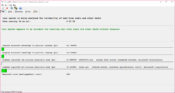 The best thing about LatencyMon is the fact that it will offer you a real-time audio suitability checker which can easily measure DPC and ISR execution times. It will also provide you with detailed information about the system. This app has been designed to analyze your computer and provide you with details about overall latency.
The data will be relevant for the users who need to process real-time audio signals on their computer.
It is essential to analyze the potential causes and take preventive measures, and this is why this tool will help you when it comes to performance issues. This tool will allow you to perform the test and also view the results with a minimum effort.
You will only have to run the application and start monitoring. You will manage to view the results in the main window. LatencyMon will offer you access to system performance, and it will also record the kernel time latencies. It is also an excellent tool because it will calculate the highest execution time for the interrupt service or deferred procedure calls. It is an easy to use software application, but if you want to read the results, you will need to be an experienced user.
The tool will offer you a brief interpretation, and you will need to consider this interpretation to improve the performance of your PC. I will also show all of the running processes and installed drivers and even CPU core statistics. These details can be exported to text files. It will be pretty easy to select the processor cores and adjust the test parameters in the Options window.
LatencyMon will come in handy when the user wants to avoid clicks and pops in the audio output.