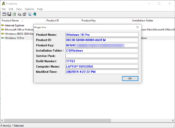 If you need the product keys of the application installed on your computer, then Produkey can help you in finding those keys.
ProduKey can scan all the applications and see the product keys associated with them without wasting any time. You do not have to wait too much before you can get the keys displayed.
You can find all the details about the application in the main window of ProduKey.
With this application, you don't have to rely on your computer's internal data as the only source of reading data and displaying the product keys.
You can use an external Windows directory, software registry, and all the computers of a local network to get the required information and input to find the right kind of information. Moreover, this feature also enables the use of ProduKey in different settings.
A separate section is provided to the users for getting the Windows keys, Internet Explorer keys, Office keys, and Windows Explorer keys to expect all the information to be sorted in the best possible manner.
The interface is simple and friendly for the users, making key recovery simple and easy. ProduKey is an efficient key recovery tool for all the applications installed on your computer.