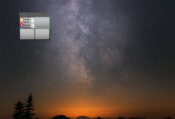 Create multiple desktop environments by using goScreen, an application that helps you declutter your main screen and use your shortcuts on various screens, allowing you to save time and make your desktop seem more organized.
Every day, computer users download several applications, which only adds to the clutter they have on their computers.
It means that their desktop gets overwhelmed with additional shortcuts, which can look disorganized and even impossible to manage for some people. That makes working with that particular computer almost impossible.
To let go of that clutter, you can use goScreen. It's an application that will provide additional screens next to your main screen, where you can store your shortcuts and files to be more organized.
It helps you organize your open windows and make your work easier, allowing you to use multiple screens simultaneously.
Provides Additional Flexibility
When you have just one desktop, you'll be working with only one screen unless you purchase an additional screen, which might help some users stay more flexible and organized.
However, with goScreen, you'll have the ability to choose from four additional screens. That makes it easier for you to use some extra space on your computer.
With this app, you can arrange your desktop icons, which are seen visibly in an organized way. While it might be possible to see all screens simultaneously on your desktop, you can also set the application only to show you the screen you currently need, allowing you to stay more efficient with the screens you use.
Tweak and Customize Your Screens
Additionally, you'll have many neat settings when customizing your screens. At the start, you'll customize some visibility and appearance settings, which is nice for beginners who want to make things more organized and still allow the screens to look nice.
You can even load up your commands and lines, but that's more appropriate if you're an expert. The application also comes with several customization options for your screens.
You can select from various menus you can use, and you'll also be able to tweak many settings in these menus to tailor the whole experience to your needs.
If you want, you can choose to start the program automatically as you boot up your computer. You can also decide if you want to switch to a particular screen as you open up the application, giving you more control over what the app does and how it acts as you launch your computer.
Conclusion
goScreen is an application that will provide additional screens that allow you to be more productive with your work and stay more organized on your computer.
It's quite simple to use as it has some neat and more advanced settings for experts.