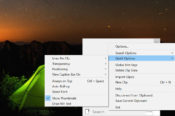 This utility can add advanced features to your Windows Clipboard application. With Ditto, you can expect to retrieve your copied information later. Moreover, all the file formats can be supported, including text, images, and other custom formats.
Amongst some of the prominent features of Ditto is the easy-to-use interface. You don't have to edit any configuration settings for managing the application.
You can easily search the previously copied entries and paste them whenever and wherever required. You can keep the content copied to the clipboard from one device to be copied on the other because of this application's synchronization facility.
You don't have to worry about data security because all the data you send and receive is encrypted. Double-clicking the entry for pasting or using the drag-and-drop feature enables ease in the process. Similarly, its presence in the tray provides easy and quick access to the users.
It can also display the thumbnails of the copied images to know what you have in stock.
Ditto is a clipboard manager with extended features that can enhance the simple clipboard application present in Windows.