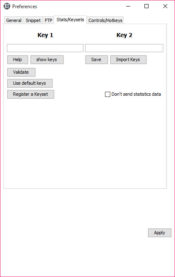 Snipping Tool++ allows you to take screenshots of your computer screen through a mouse click only. The best part about this application is that you get varying options of getting the screenshots.
Some of the options you get through this app include the screenshot of the entire window, full-screen screenshots, and screenshots of the particular portion selected in the rectangular form.
Additionally, Snipping Tool++ also allows you to get the free-form snip in which you can cut the screen in whatever shape you like, and that will be considered the screenshot.
You can save all the screenshots and copy them to any location on your computer without even saving it. You can also use the editor available in this utility to do the necessary editing. However, you cannot make significant edits to the screenshots.
It requires very little memory space for operations, so you can easily use it with other applications working on your computer. Moreover, it is free to access, so you can download this great application for taking screenshots.
Snipping Tool++ is a screenshot taker for the windows with various modes for capturing the required screen.