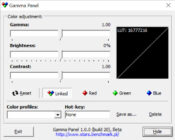 Gamma Panel is an app that allows you to adjust the brightness of your screen, alter the gamma settings, and change the contrast of your screen in real-time.
Changing the brightness and the gamma settings of your screen can be hard sometimes. You need to access your monitor's settings, which can be tedious since you have to press a lot of buttons and access your screen's internal settings to accomplish this.
With Gamma Panel, this process is made easy and seamless. You can change your screen's brightness, alter the gamma settings, and select the right contrast of the screen, which can make the screen's performance more appealing and visually pleasing.
Change Your Screen's Settings
Changing your screen's settings with this program is incredibly easy. To change the brightness, you can simply use the slider to select your screen's right brightness. It is done only in a couple of clicks, compared to using the screen's settings, which can take much longer.
Also, you'll be able to change the gamma settings of your screen. It is done by giving you access to each channel of the screen's color, including red, green, and blue.
Once you're happy with the settings, you can save them and create a preset that you can use in the future. You can also assign hotkeys for these settings so that you can deploy them instantly.
Easy to Use and Download
The app is very lightweight. When you're not using it, it will seamlessly be hidden into the system tray. This way, it won't take up a lot of resources on your computer. It will only act as the hotkey program when you're not using the app.
The program is fantastic when you're in a program or when you're playing a game, and you don't want to exit the program to change the settings of your screen.
Conclusion
Gamma Panel is a program that allows you to easily change the brightness or the gamma settings of your screen.