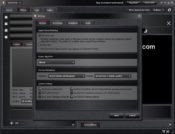 SparkoCam is an application that allows you to add filters and different effects to your live webcam streaming videos. The application also uses the DSLR Canon camera in webcam mode to expect a high-quality video.
Additionally, you can add custom videos and pictures into the live stream to make your experience good. Even the adjustment of filters and the other combined effects is also possible through this application.
The application interface is quite easy to handle, allowing you to explore and implement the various changes that you can think of in the live streaming sessions. You do not have to use a web camera to show something out of your PC.
You can even manage the desktop streaming while using this application while incorporating the various effects mentioned as the features of this application.
Recording the live video is also possible with the same tool. Even taking screenshots is just a button away within the live video sessions. Incorporation of 3D effects in the video is the other prominent feature of this application, giving you the immense opportunity to stream in a different and fun way.
SparkoCam provides various features for the live streaming users that can help them get the best services when it comes to the fun and unique aspects of services.