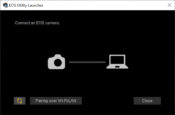 EOS Utility is a simple and effective tool for connecting your Canon EOS DSLR camera to your computer, getting all of the photos that you have on it, and managing your device once it's connected.
If you want to ensure that your Canon EOS DSLR is properly connected to your computer, then you might want to use the EOS Utility tool.
It will help you establish a proper connection with your computer, allowing you to manage your camera then, get the images, and configure how your camera works in more detail.
Works with Other Management Tools
The great thing about this application is that it is mainly used as a tool, but it's not a real camera management tool. Instead, this application is meant to work together with other EOS tools to help you completely master your camera. It will work with the Digital Photo Professional app, EOS Digital Solution Disk Software, and others.
It comes as a standalone application, but you won't see much in terms of its tools and features.
Canon released it because of the many concerns that Canon users reported with their devices because they were not connected properly to their computers and thus could not use its full capabilities.
Simple Interface
You will find a simple but attractive interface once you open this application. While it is not the most complex application, it has some tools to help you manage your camera.
For example, you will be welcomed by the Control Camera screen, where you will find several options like image downloading and camera settings.
You might want to use other tools, including WFT utilities, administration tools, and other different features and tools that are nice. However, the primary purpose of this application is still to act as a complementary tool to other camera management tools.
Conclusion
EOS Utility is a simple and effective solution for solving your connectivity problems with your Canon camera.