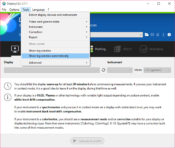 DisplayCAL is the GUI for Argyll CMS, which will enable you to measure colors on the go and make sure that you use all of the capabilities of Argyll.
Argyll CMS is an efficient and feature-pack tool for measuring colors in printing, photography, lighting, and graphical design. It was originally an Android application, but with the addition of the DisplayCAL graphical interface, you're getting the same capabilities and all of its features on your computer now.
Refreshment of the Interface
Some aspects of Argyll CMS tend to be quite dated – however, with the addition of this utility, some of those issues are solved. The first thing we need to mention is that this acts as the graphical interface for Argyll, essentially bringing you all of the features you'd expect from this application in a simple and easy-to-use interface.
If you're an experienced user of Argyll, then you'll be pleased to know that the application cuts no corners.
It retains all of the great features you'd use in Argyll in an easy-to-use interface. After you start this interface, it will automatically detect all of the connected devices to your computer so that you can work with them.
Advanced Features
As already mentioned, this application does not compromise on the features added, as you will have all the same capabilities that you'd expect from Argyll. When you launch the app, it will launch with default settings, but the good thing here is that you'll be able to customize these settings at your will and tailor them to your needs.
You can create your profile with your settings. Other adjustable settings included, such as changing the white level, tone curves, calibration speed, and using the test charts in simulations.
These features will benefit both the advanced users and the beginners and the users that use this app occasionally.
Conclusion
DisplayCAL is the graphical interface of Argyll CMS, offering you the same features that you'd find in Argyll in a simple and elegant interface.