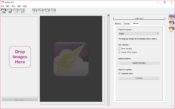 For blending pictures, you can use this application. It works well if the two pictures with the same pixel composition need to be transformed into a single one. As the name says, its primary purpose is to blend many pictures for making the star tail kind of image for you, but you can use the same features of the application for editing purposes.
StarStaX works as a portable application, which can be initiated from a USB drive. Moreover, it does not make any changes to the Windows registry of your computer as well. Drag and drop features are included in this application to allow you to upload the files for blending purposes.
Managing picture formats is not an issue with this application. You can upload JPG, PNG, TIFF, and BMP format or pictures in any other format to initiate the blending purpose. Through this application, you can switch to full-screen mode, enabling you to efficiently perform all your work.
Zooming in, zooming out, and previewing pictures are features that you can expect using this application.
StarStaX can help you blend the two same pixel files into a single picture without requiring much of the effort from your side.